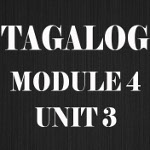 OBJECTIVES
At the end of this module, you will be able to perform the following tasks in Pilipino:
Bargain over the prices of souvenirs.
Ask what material a particular item is made out of and understand the answer.
Audio for this lesson
Pagbili ng Subenir


Buying Souvenirs
Bob:
Anong halaga ng lampara?
What's the price of a lamp?
Tindera:
Singkuwenta pesos po.
Fifty pesos, sir.
Bob:
Bakit napakamahal?
Why so expensive?
Tindera:
Sapagka't mabuting klase at gawang-kamay. Mura na po iyon.
Because [it's] good quality and [it's] handmade. That's already cheap.
Bob:
Anong yari ito?
What is this made of?
Tindera:
Kapis po, kaya maganda.
Capiz shell, sir: that's why it's beautiful.

.

Bob:
Maaari bang treynta pesos na lamang?
Can I have it for just 30 pesos?
Tindera:
Hindi po maaari. Magdagdag pa kayo.
(It's) not possible, sir. Add some more.
Bob:
Treyntay otso pesos na lang.
Thirty-eight pesos only.
Tindera:
O, sige na nga. Ano pa ang gusto ninyo?
All right, go on. What else do you like?
Bob:
Magkano ang prutera?
How much is the fruit bowl?
Tindera:
Kuwarentay nuwebe pesos at singkuwenta sentimos.
Forty-nine pesos and fifty centavos.
Bob:
Puwede ba akong tumawad?
Can I bargain?
Tindera:
Hindi po puwede. Wala nang tawad. Murang-mura na iyan.
No, sir, you can't. There is no more discount. That's already very cheap.
Bob:
Okey, ipakibalot mo nang mabuti.
OK. Please wrap it well (for me).
NOTES ON THE CONVERSATION
Maaari bang treynta pesos na lamang? literally means "Can [it be] thirty pesos only?"
Maaari means "can," "could," or "possible." Hindi maaari -"(It's) not possible."
Puwede ba akong tumawad? literally means "Can I bargain?"
Napakamahal means "very expensive" from mahal, "expensive."
Mura is "cheap." Murang-mura means "very cheap."
Kapis (capiz) are flat translucent shells used to make lamps, trays, wind chimes, and other home decorations.
Tumawad means "to bargain" from tawad, "bargain," "discount."
Ipakibalot – ipaki is a prefix used to ask someone to do something for you.
Nang mabuti, "very well."
EXERCISES
Exercise 1. Repetition
kabibi
conch shell
lamparang kabibi
lamp made of shells
istatuwa
statue
larawang oleo
oil painting
kuwadro
picture frame
prutera
fruit bowl
mantel
tablecloth
burdadong mantel
embroidered tablecloth
punda
pillow cases
burdadong punda
embroidered pillow cases
kuwintas
necklace
tsinelas na abaka
abaca (Manila hemp) slippers
silyang ratan
rattan chair
mesang ratan
rattan table
abuhan *
ashtray
kahon ng tabako
box of cigars
bastong inukit
carved walking stick
panyolitong pinya
handkerchief made from pineapple fiber
*     *     *
pleysmat
place mat
hanbag
handbag
basket
basket
astre
ashtray
In some areas

titisan

is also used for "ashtray."
Exercise 2. Say in Pilipino:
abaca slippers
statue
necklace
handkerchief made from pineapple fibers
conch shell
box of cigars
embroidered tablecloth
carved walking stick
fruit bowl
oil painting
picture frame
Exercise 3.
You hear:
 statue
Say:
 Anong halaga ng

istatuwa

?

tablecloth
rattan chair
abaca slippers
box of cigars
conch shell
carved walking stick
Exercise 4. Say in English:
| | | |
| --- | --- | --- |
| Magkano ito? | Magkano iyan? | Magkano iyon? |
Treyntay nuwebe pesos ang bastong ito.
Singkuwenta pesos ang larawang iyon.
Kuwarenta pesos at singkuwenta sentimos ang pruterang iyon.
Sisentay nuwebe pesos at nobentay singko sentimos ang silyang iyan.
Katorse pesos at beynte sentimos ang tsinelas na ito.
Kapis po, kaya maganda.
Sapagka't gawang-kamay.
Hindi po maaari.
Wala nang tawad.
Murang-mura na iyan.
Exercise 5. Say in Pilipino:
What is this made of?
Can I have it for forty pesos?
Can I bargain?
Please wrap it well.
Is it handmade?
How much is the lamp?
How much is this?
How much each is that?
How much is that over there?
Exercise 6. Conversation for Listening Comprehension
Tindera:
Hoy, Anne, anong gusto mong bilhin ngayon?
Anne:
Gusto ko ng isang larawan para sa aking kaibigan sa California.
Tindera:
Ito ang pinakamaganda. Gusto mo ba?
Anne:
O0, napakaganda! Pero magkano ba ito?
Tindera:
Ibibigay ko sa iyo ng tatlumpung piso.
Anne:
Bakit mahal?
Tindera:
Mangyari malaki ito at "oil painting."
*     *     *
Anne:
Anong yari ang kuwadrong iyan?
Tindera:
Nara at kinse pesos lamang.
Anne:
Puwede bang trentay singko pesos na lamang ang larawan at kuwadro?
Tindera:
Hindi puwede. Maaari sa kuwarenta pesos.
Anne:
Okey, ipakibalot mo lang.
Tagalog Flash Cards
If you are ready, go on and study Module 5 Unit 1